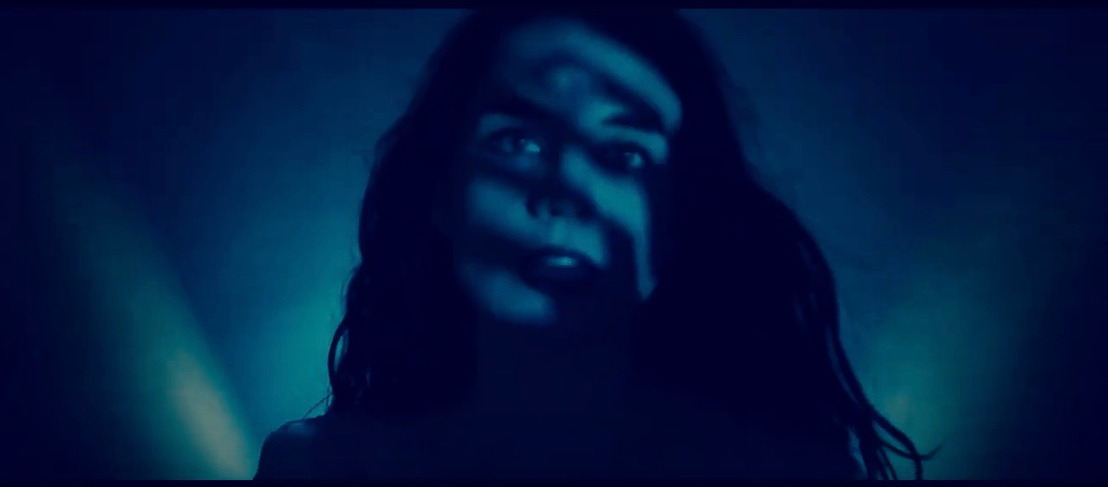 HANA PIRANHA — the story of 'Wednesday's Child'...
An engaging tale of the perils of embracing darkness within, Wednesday's Child is the wild, dangerous fruit grown from the true spirit and the vivid imagination of Hana Maria of Hana Piranha...
For the story of this album plus UK tour dates...
For Wednesday's Child, Hana Maria rests her trademark violin in favour of a new and deep-seated obsession with that other great stringed instrument, the harp. Hana, previously known for the manic energy and at times aggression of her live performance as Hana Piranha, now channels technique and melodic sensibility from her classical upbringing, seasoned with a sometimes contemplative, sometimes fiery, bluesy undercurrent. The result is compelling, the breadth considerable, the sound remarkable. There are very few talents like this.
Born during a hurricane, in the far, far away islands of New Zealand, Hana Maria studied violin and piano from the age of three. Her family relocated to England when Hana was twelve. Hana continued with her musical education at The Purcell School near London until age seventeen. Hana now lives in Brighton, UK, but still regards New Zealand as home.
Less than enamoured with the restrictive notions and arcane pathways of classical music, she duly founded dark rock band Hana Piranha in 2011, and in this band guise she has released three albums so far. Hana's violin playing has been called Jimi Hendrix-like.
But Hana and her story evolves. Serendipity intervenes, as it always should. Hana met Los Angeles-based producer and multi-instrumentalist Jason Achilles on a US tour. The pair, are kindred spirits and soon established what Hana names a musical synchronicity. And there the collaborative relationship began.
The Hana/Jason partnership flourished and laid the firm foundation for Wednesday's Child. The album is a co-production joining Jason Achilles' Organic Audio Recorders studio in Los Angeles with music conjured up by Hana with fellow musicians in England. West of the Moon, a delicious instrumental — hear it below — adds the notable Steampunk cellist Unwoman, with whom Hana had played previously in San Francisco.
"I took up the harp to connect in a different way than I'd done before with my rock band. Wednesday's Child is an album that captures my heart and soul. And I feel rewarded when I perform it — I feel I can whisper, if I need to..." says Hana.
So Wednesday's Child is Hana Piranha's fourth album and Hana's very impressive solo debut, all at once.
Wednesday's Child — the narrative song by song
Lullaby
Once there was a young woman who had inherited everything in life that was deemed worth having - generations of beauty and grace bought and refined by immense wealth. However one does not achieve such greatness without causing harm, and the family had acquired powerful enemies.
At the event of Helene's christening, an enchantress managed to enter the castle in disguise. As she came to the foot of the crib, she caressed Helene's cheek with a bony finger and whispered these words in the child's ear.
"Pearl to pebble, silk to hay
Night winds bear your joy away"
A cold air filled the hall. The princess had been cursed and the enchantress gone without a trace.
West of the Moon

On her eighteenth birthday, just like it was supposed to happen, Helene fell in love. She wasn't sure she had seen Soal from the beginning, but it was like she had always known he was there. The very first touch moved like lighting up her arm, across her chest and straight into the deepest cavity of her heart. In Helene's world, true love was an absolute force that never eluded the seeker and for that reason, neither time nor familiarity was a necessary addition to the match. There was no doubt that Soal and Helene were meant to be together.
Teeth
By the time she met Soal at the altar, Helene didn't look like a child anymore. Something in her face had changed – it was like her cheekbones were stopping the skin from collapsing. Love was supposed to be an unchanging emotion in these lands, but against his will, caprice crept into Soal's heart at the sight of her. His eyes still smiled but there was nothing behind the smile.
Without his love, Helene was miserable. Her days were as unbearable as her nights and the songs she sang became as melancholy as the cries that were rumoured to be heard from her room at night. The beautiful princess had the appearance and presence of a forgotten doll and floated through each day with just her music for company.
Eurydice [see video above]
The witch's reflection in the glass shifted into Soal's image. He was sat, rocking slightly, with his arms around his legs. It was very dark, but Helene could make out that he was in what looked like an enormous cave.
"Helene," the old woman cried, but it was the prince's voice that came out of her mouth. "I'm waiting for you."
Helene's eyes were filled with tears.
"I thought he didn't love me," she murmured, "but he does. It's his darkest hour and he's thinking of me. He wants me."
"I must go to him. Wherever he is, I will bring him back."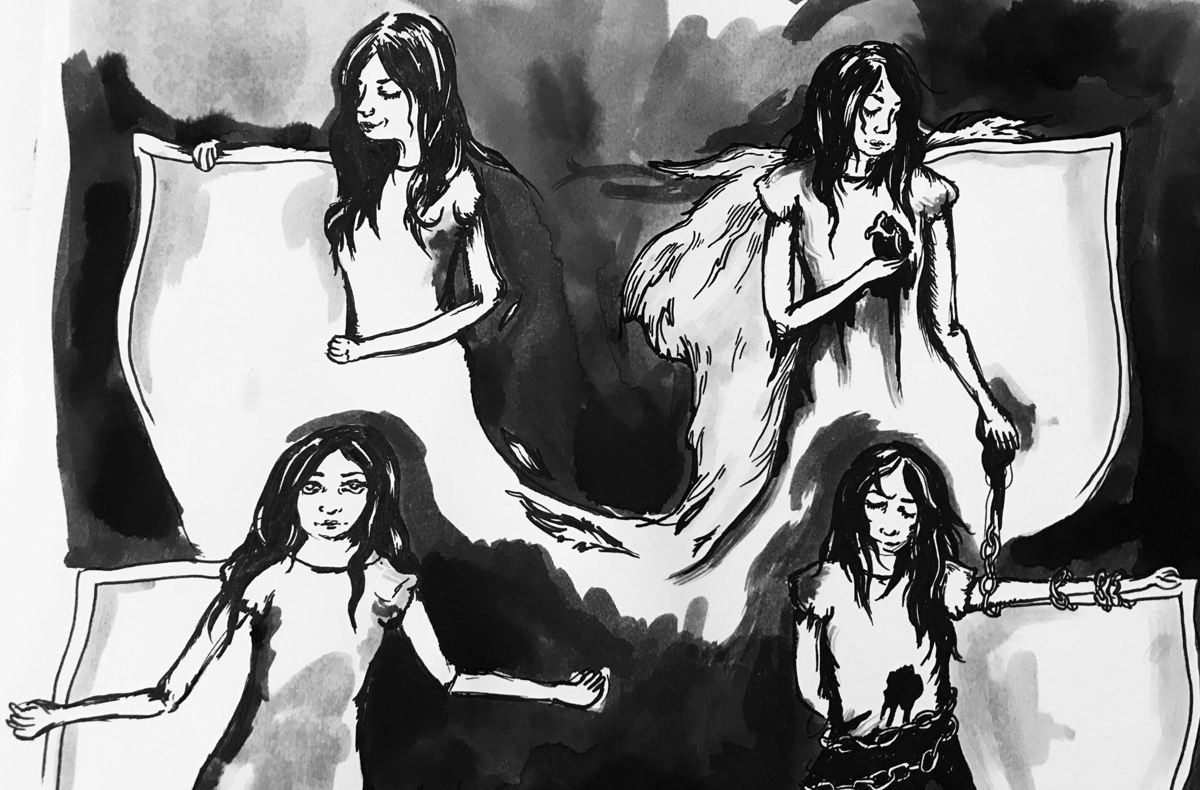 If You Just
After waiting for what must have been hours; straining her ears for the slightest noise, she again picked up her harp and played until her fingers bled. Then when she could play no more she groped her way through the cavernous rooms, not knowing where she was or how long she had walked. At long last, the princess lay down and surrendered herself to sleep.
As Helene woke, it was with the unmistakeable realisation that she had been betrayed; that she was not loved; and that she was alone and trapped down here in the darkness.
How to Become a Queen
And so her quest changed. She knew the search for Soal would be foolish and fruitless, and her purpose now must be to find her way out of this eternal tomb. No-one was going to come and save her. Well then, she would just have to save herself.
Heroine
As the months passed, Helene's feelings grew into a simple desire to hurt Soal, but no matter how much she fantasised that she might rip his heart in two as he had done hers, she knew that she alone had no power over him. Her mind began to mull over what she might do to get to him and she began to fixate on her daughter as an accessory for revenge.
Wednesday's Child

True tragedy was about to strike; that which would make Helene's previous misfortunes appear as blessings in comparison. As her lust for vengeance might suggest, the princess' strong and pure spirit, heretofore indomitable through misery or pain, was eroding every day that she bathed in the water of the Underworld. And as the beauty of her exterior increased, so too did the ugliness within.
Soliloquy
Helene had destroyed everything only to learn that to love and be loved in return was the only thing that could have saved her.
Drawings by Daisy Hull.
---
Hana Piranha Tour Dates 2020
March 5th — Reading, Global Cafe

March 6th — London, Aces & Eights

March 7th — Worcester, Paradiddles

March 8th — Birmingham, Tower of Song

April 15th — Brighton, The Brunswick

More tour dates are TBA
---
Releases from Hana Piranha...
The West Of The Moon EP — comprising 1. Lullaby 2. West Of The Moon (featuring UnWoman) 3. Eurydice — EP OUT NOW
Eurydice — video OUT NOW — see above
Wednesday's Child — album release scheduled for March 6th 2020 on Fourglove Records; album formats: CD & Digital
Wednesday's Child — illustrated book scheduled for March 2020
* For more information — please contact us...
Contact: Mal Smith & Chris Carr Delta PR