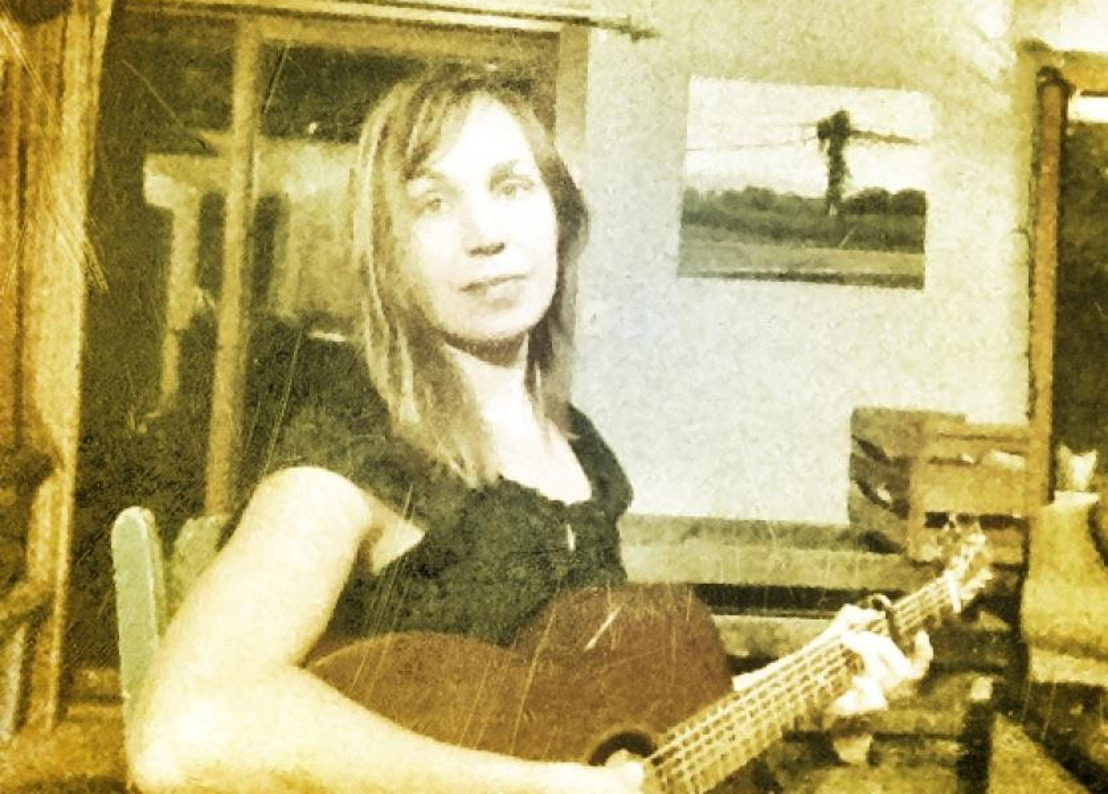 JENNIE LOWE — Ghost Tracks
Jennie Lowe's new album produced by Craig Street...
"Killer record!" Johnny Dowd
"The well that Jennie draws from is deep. It's not confined. When Jennie sings, she becomes the song. The beauty of how specific and personal these songs are is fantastic. They are true to the singer. A singer who makes a listener believe that she believes what she sings. As listeners we are thrilled to go along for the ride..." Craig Street
Produced by Craig Street, whose credits include Norah Jones, Chris Whitley, and Cassandra Wilson, Jennie Lowe's 'Ghost Tracks', recorded at Pyramid Studios, Ithaca NY, feature Jennie Lowe (guitars and vocals), Tyler Ramsey (guitars, piano, backing vocals), Sebastian Steinberg (bass), and Greg Evans (drums). Jennie's musicians are known for their work with: Band Of Horses (Tyler Ramsey); Soul Coughing, Iron & Wine, and Fiona Apple (Sebastian Steinberg); and Driftwood (Greg Evans).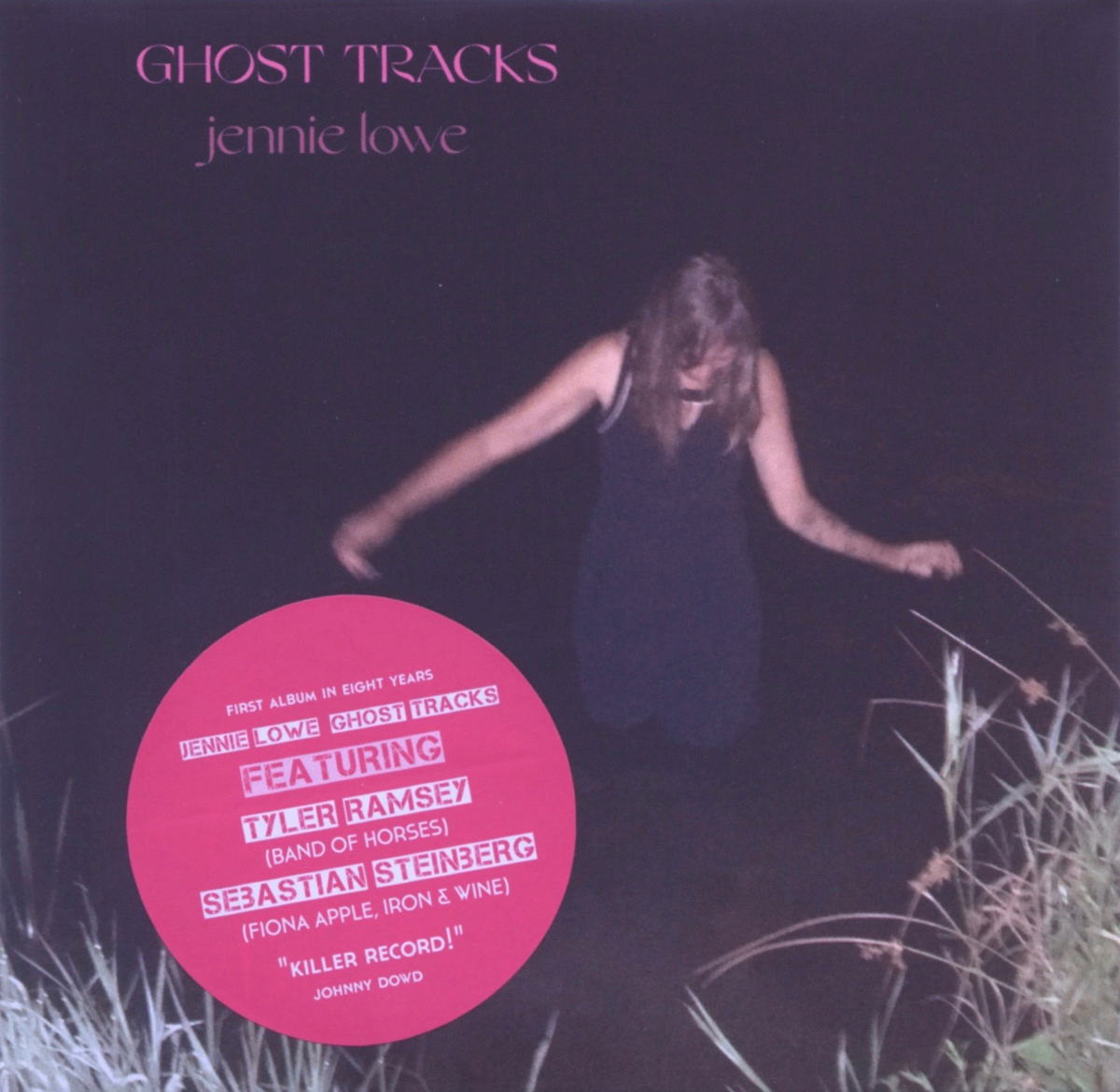 We asked Jennie Lowe, from Ithaca NY, about her life, her music, and her 5th studio album 'Ghost Tracks'. And she told us…
I've harboured a fierce passion for music and the visual arts since I can remember. My grandparents were painters. I would often sit beside them near their home on the coast of Maine as they painted landscapes from the cliffs. At nine years old I fostered a proclivity for inventing songs on an out-of-tune piano in a storage room far from the rest of the family. Once I discovered the sustain pedal, well, there was no turning back.
At fourteen an uncle gave me a guitar. I would sneak out to the roof outside my bedroom to play and write. Numerous trips by train to a Boston record store began my record collection. Neil Young and Tom Waits spent the lion's share of the time spinning on the turntable.
My older brother Mark shared his love of music with me, through his own playing on the piano or banjo, and his record collection, and by taking me to my first shows, like Taj Majal, Ry Cooder, and Tom Waits. In my teens I was introduced via my brother to a wild and slightly unhinged group of like-minded artists. What followed was many weekend trips to an outlying cabin in the north country of Maine where we would engage in music and other shenanigans.
Ithaca
I pursued visual arts at college in NH. And then one time I hitchhiked across New England to a Tom Waits concert. Waits actually ran into me as he came around a corner in the hallway. He grunted disapproval. But at that concert I witnessed a musicianship by Waits and his band which intrigued me and inspired me. At nineteen, I moved to upstate NY to continue art school there. Next I relocated to Ithaca NY, where I met Johnny Dowd, Mary Lorson (Madder Rose), Hank Roberts, and my ex-husband Richie Stearns (The Horse Flies).
Various incarnations of Jennie Lowe bands have included Mary Lorson and Billy Cote of Madder Rose, Kim Caso, Brian Wilson, and Michael Stark of Johnny Dowd's band, and Hank Roberts (Bill Frisell). I've sung in Mary Lorson's band Saint Low and have provided vocals for Madder Rose, Johnny Dowd, and Saint Low albums.
Being relatively soft-spoken, I sometimes attracted strong opinions from some musicians, venues, and music engineers who somehow assumed they knew best. A band member once told me "Sing loud like I'm singing to the cows in a field." I responded by saying, "Maybe I can ask the sound man to turn my mic up instead?" I have learned that having faith in my abilities and strengths and finding people who can support my music allows for the best possibilities to occur.
Sing Desire, Birds Fall, and Blurry Edges
On my second studio album, 'Sing Desire', I introduced an experimental element. I chose to co-produce with Chad Crumm (The Hix). 'Sing Desire' garnered rave reviews, accolades, and my first international interest. Multiple tours followed, along with touring with the Cowboy Junkies, music festivals, and radio and TV spots.
Richie and I had two sons. Richie was a full time established musician with the band The Horse Flies and I was working odd jobs and raising the kids. Richie and I toured as a duo, often bringing the kids with us. After our divorce, I opened a record store in Ithaca NY with two partners. It was gratifying in many ways but also frustrating. Writing, recording, and performing is my main passion.
Then came the albums 'Birds Fall', produced by Gurf Morlix (Lucinda Williams), and 'Blurry Edges', self produced. They received good interest, but for whatever reason, did not create the opportunities 'Sing Desire' had. I was funding the productions on my own while running a record store and raising my sons. It was a strain financially. I reached a point where It was not worth continuing to lose money via music. Having said that, I did continue to write prolifically and record at home on my iPad while putting songs on Soundcloud for someone, not just myself, to hear. I performed regionally with band, with shows few and far between. Being single with two young children, I had to do what I could to stay afloat while also nurturing my music side when I could.
Ghost Tracks
Move forward to the new album 'Ghost Tracks'. By chance I got reacquainted with producer Craig Street (Norah Jones, Chris Whitley, Cassandra Wilson). Craig was interested in what I was writing, so I sent him a batch of the most unconventional and peculiar songs I'd recorded on my iPad. I figured that if he was drawn to those more left-field songs then we were at a potential starting point towards making an album together. Over the next couple of years we met over coffee in his home and we would discuss numerous topics relating to the creative process. He had a reverence for my writing and performing, and he wasn't shy about suggesting certain players and engineers that would nurture and support what we envisioned.
After some coaxing from Craig Street, I committed to making the album and we began pulling together the players. I am astonished by the support I have received from friends and fans and this gave me the courage I required to move ahead. Craig had worked with Sebastian Steinberg (Fiona Apple, Iron & Wine, Soul Coughing); they were old friends form New York City. Tyler Ramsey (Band of Horses) and I met years ago and toured together just before he was hired by Band of Horses. Tyler Ramsey has always championed my songs and he has just recorded When You Go from my album 'Birds Fall' on his October 2020 EP release. The excellent Greg Evans (Driftwood, Hank Roberts) plays drums.
What developed with Craig is a friendship and trust that carried into the studio and became a prominent feature in the recording process. Never have I experienced such ease in the recording process with such satisfying results. There was an admiration between all involved and not a hint of drama or ego. I was able to relax and perform comfortably, as I was not internally fighting to be heard musically or otherwise.
The recording process seemed effortless. Sebastian flew in from LA and Tyler drove up from North Carolina. Tyler and Sebastian stayed out at my house and we started each day with coffee and a swim in the pond before driving a few miles to Pyramid Studios. The musicians performed together live with minimum overdubs. Craig felt my voice worked well in the moment of the live performance.
In March 2020 my brother Mark, a huge influence for me musically, died accidentally after falling through ice in Maine. I had been able to send Mark the new album. He sent a text quoting a line from one of the songs: "Flirting in the scrapyard, we stole a broken car, careening through the trees, feeding off release."
It was his way of saying he remembered our shenanigans with friends in New England when we were teens. It was at least a month or more after Mark's death before I could write again. I knew it was going to be a song for Mark. After writing the song, I'm able to write again. I'm relieved that 'Ghost Tracks' was completed before the pandemic and before my brother's passing. I've been writing non-stop now and the cathartic aspect is always a driving force.
'Ghost Tracks' — Track Notes by Jennie Lowe
Waiting For The Right Light
Waiting For The Right Light has developed a deeper meaning since the album was completed. My brother Mark is referenced, along with other screenshots from my life. What was once just a line that fit into the theme, now provokes a memory of a time I had with my brother. My brother died suddenly in March 2020. I am fortunate that he heard the song and discovered on his own that in one line I was referencing a brief moment shared with him and two others in the woods by a lake in New Hampshire years ago.
Asphalt
Written about ten years ago. I was driving through my little town on a miserable rainy and cold November morning. A homeless man was sleeping on the sidewalk. For a myriad of reasons it struck me deeply as to how criminal this was. In the studio Tyler Ramsey asked if he could add a piano part. The result adds a haunting and tender undertone to this song.
Ghost Tracks
An attempt to be honest with how easy it is to fall under a spell willingly but not without cost. As I witnessed Tyler Ramsey sing the harmony, I was confused for a second, tricked into thinking he was channelling a woman's voice. It might be favorite part of the song.
All The Rage
Sebastian Steinberg chuckled at this. I wrote the song in my attic studio with snow sliding down the skylight window and an angry squirrel trying to get out of a cage on the roof. The words came from a dark place with no escape but with temporary relief in the simple act of writing a song. It's an experiment with brutal honesty.
Loaded Gun
After I wrote this line then the song was off and running: "Had a friend, he carved a name in his skin. I have no need, I already bleed."
My Savant
My Savant seemed to write itself. Once I acknowledged that a particular love situation had no hope, then came the song. The band so beautifully supported me in this fragile confession of unrequited love. After listening to the rough mix, I realized then and there why Craig Street (my producer) wanted Sebastian Steinberg to play bass on this album.
Sweet Amnesia
I am drawn to distortion. I blame Neil Young. Guitar distortion oddly has a soothing effect on me. This song called for a bed of sonic chaos from the second it was written. It was one original lo-fi demos I shared with Craig Street. I was surprised that he liked it so much. It seemed almost too simple. I'm glad that I recorded it for the album. It seems to have a place after all.
Sweep
Sebastian Steinberg was less than an hour from having to catch a bus to the airport. Before he left the studio he recommended we try Sweep as just the two of us. This is the result. After he played the last note, he put on his coat, we all hugged goodbye and he was off.
Grizzly
I had a dream that an ex was being escorted by the cops to a car that I was in. As he leaned against the car he turned into a Grizzly bear. I think this song might be eluding to the demons in our core and the ones that threaten us on the outside. It seems a never ending process of seeing the truth and trying to make sense of it. Greg Evans' drumming creates a strong and solid foundation. Craig Street asked Tyler Ramsey to play as if this was a David Bowie song. Tyler claimed it was out of his wheel-house. I think he proved himself wrong.
Ataraxia
Ataraxia I wrote for a close family member who was in a volatile and abusive relationship. It brought them to tears when I played it for them. I tend not to reveal to a person that a song I wrote is for them, but in this case I felt compelled. Tyler Ramsey adds a comforting voice in the chorus.
Jennie Lowe — Album Discography
Angel With A Broken Wing — Jennie Stearns (1998)
Mourning Dove Songs — Jennie Stearns (live album) (2000)
Sing Desire — Jennie Stearns (2002)
Birds Fall — Jennie Stearns (2007)
Blurry Edges — Jennie Lowe Stearns (2012)
Ghost Tracks — Jennie Lowe (Release March 5th 2021)
* Single title TBC — Single expected early February 2021
* Ghost Tracks — Jennie Lowe (Album CD, Vinyl, Digital) — due March 5th 2021
Contact: Mal Smith & Chris Carr Delta PR