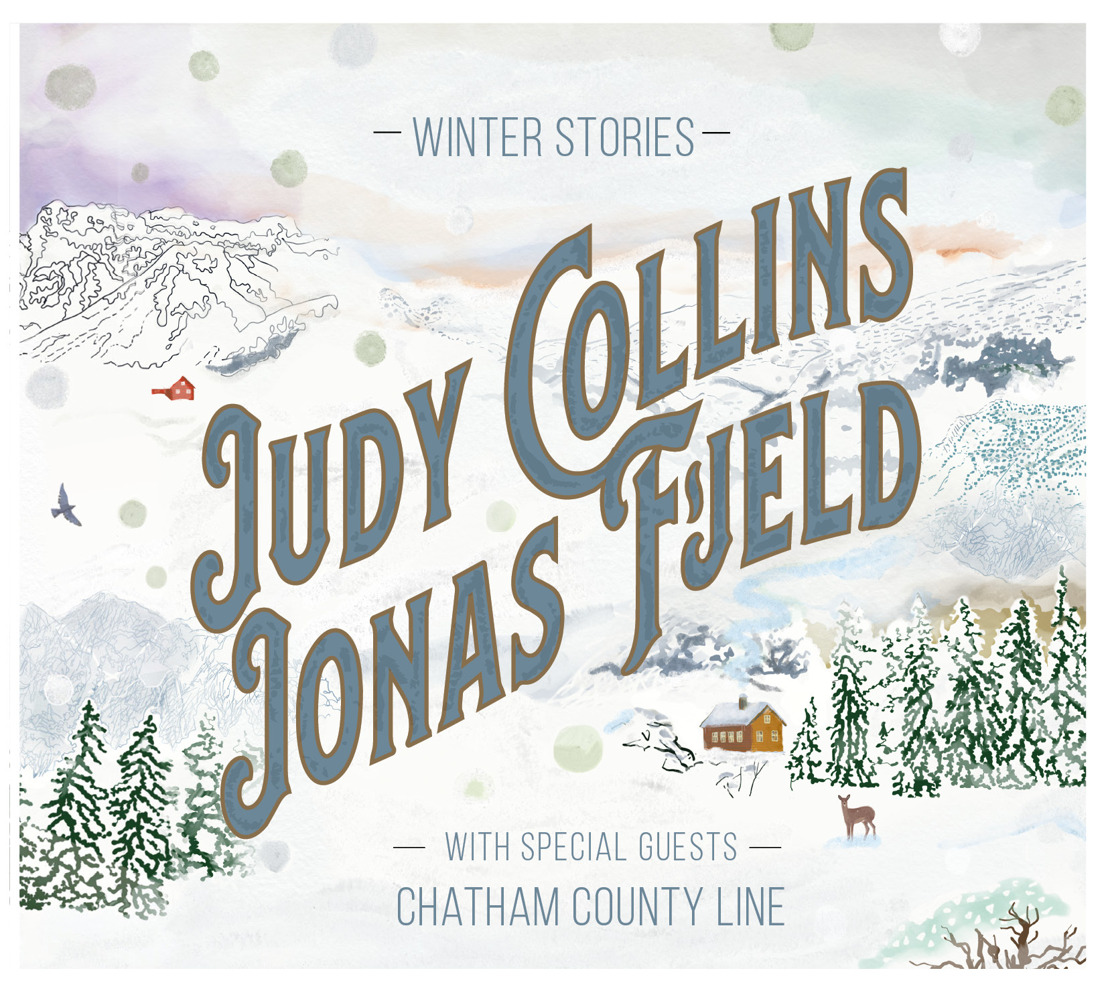 JUDY COLLINS announces 'Winter Stories' + UK tour dates
Upcoming album features Jonas Fjeld + Chatham County Line...
The Winter Stories album — due November 29th 2019 — presents the triple treat of iconic folk singer-songwriter Judy Collins, acclaimed Norwegian folk artist Jonas Fjeld, and the masterful Chatham County Line from Raleigh, North Carolina. "I knew Jonas and Chatham County Line would be a great fit with me," Judy says. "The language of music overarches everything, including geography. When we came together in the studio, we found we could speak to each other in a way that was compatible and nuanced." Jonas adds: "What bonded us was a shared love of great songs."
In February 2019, Judy, Jonas, and Chatham County Line headed down to vibey Echo Mountain Studios — a former church — in Ashville, North Carolina. The three knew each other tangentially, but had never officially worked together in this context. Jonas is a beloved Norwegian artist best known internationally for his 1990s trio Danko / Fjeld / Andersen, featuring The Band's Rick Danko and fellow Judy Collins contemporary Eric Andersen. Since 2005, Jonas has toured and recorded three albums with CCL. In 2014, Judy recorded Jonas' sublime "Angels In The Snow."
The artists had three days of rehearsal and preproduction time, during which they picked the songs. "I'm a winter guy — in my part of the world it's winter seven months of the year," Jonas says, laughing. He adds: "Winter is a wonderful time to be close to the ones you love." From there, Judy, Jonas, and CCL tracked album basics in a few days of fun and freewheeling. Judy recalls: "We would gather around tell stories and exchange histories — that exchange is very much a part of the folk tradition."
The resulting album Winter Stories is a collection of classics and new tunes, featuring spirited lead vocal turns, breathtaking duets, and Judy's stunning harmony singing. "Learning songs is fundamental to my core being — it's always an adventure to peek behind the curtain to understand what the writer went through," Judy adds.
Standouts include Judy Collins evergreens "The Blizzard" and "Mountain Girl", plus a re-recording of Jonas' poignant "Angels In The Snow" and a stunning rendition of Joni Mitchell's "River".
Also cherrypicked were songs the artists have longed to record, including Jimmy Webb's "The Highwaymen" and Stan Rogers' "Northwest Passage." Jonas contributed his newly-penned "Frozen North" and the stunning title track, which features the masterly vocal interlace of Judy and Jonas.
Judy says: "I was very honoured to work with this all-star group — there was definitely a lot of love and admiration between everyone, and we had such a great time together." Jonas adds: "Suddenly I'm playing with Judy Collins, who I've been a huge fan of since the 1970s! I keep having to pinch myself."
2019 is a special year for Judy Collins — she is celebrating her 80th year and a 60-year career!!
Winter Stories — due for release November 29th 2019

Album formats: Digital & CD

Single — 'River' — due for release November 22nd 2019

Label: Wildflower Records/Cleopatra Records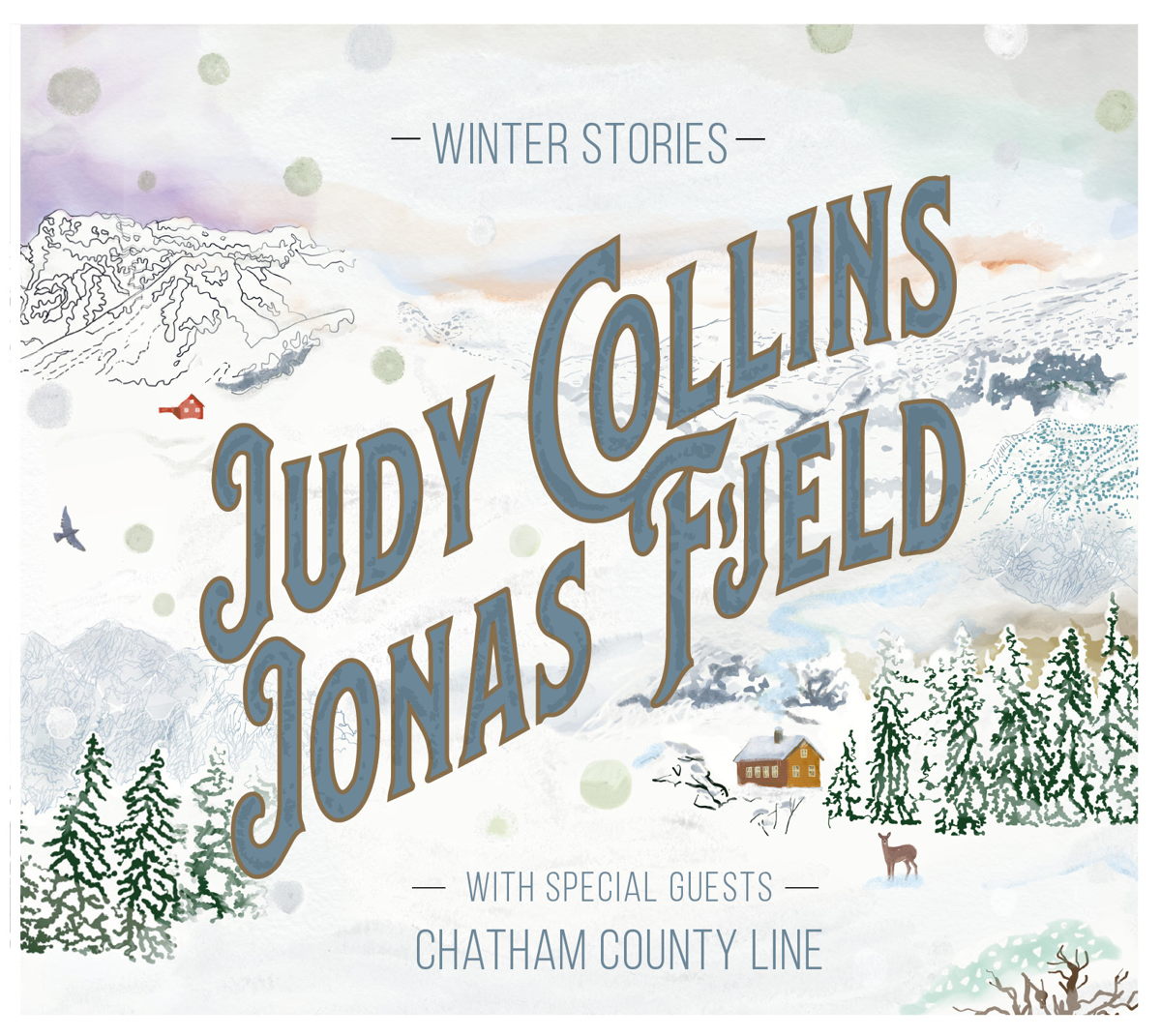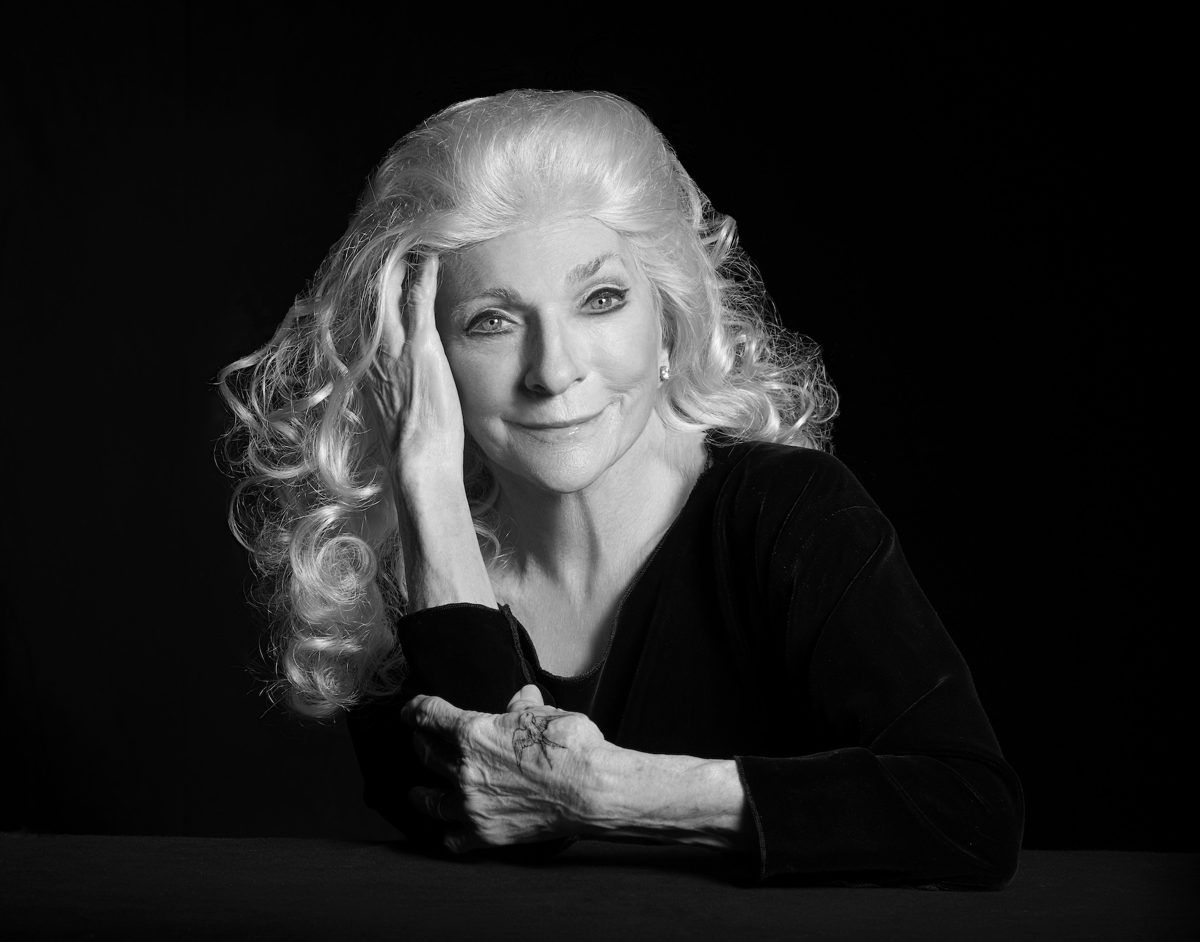 About Judy Collins
Judy Collins has long inspired audiences with sublime vocals, boldly vulnerable songwriting, personal life triumphs, and a firm commitment to social activism. In the 1960s, she evoked both the idealism and steely determination of a generation united against social and environmental injustices. Decades later, Judy's luminescent presence shines brightly as new generations bask in the glow of her iconic 55-album body of work and find inspiration in the spiritual discipline that allows her to thrive in the music industry.
She is esteemed for her imaginative interpretations of traditional and contemporary folk standards and her own poetically poignant original compositions. Judy Collins' stunning rendition of Joni Mitchell's "Both Sides Now" from her landmark album, Wildflowers, has been entered into the Grammy Hall of Fame.
Her dreamy, sweetly intimate version of "Send in the Clowns", written by Stephen Sondheim for the Broadway musical A Little Night Music, won Song of the Year at the 1975 Grammy Awards. Judy has garnered top-ten hits, gold- and platinum-selling albums. Artists such as Rufus Wainwright, Shawn Colvin, Dolly Parton, Joan Baez, and Leonard Cohen have honoured her legacy with the album Born to the Breed: A Tribute to Judy Collins.
Judy Collins is as creatively vigorous as ever, writing, touring worldwide, and nurturing fresh talent. She is a modern-day Renaissance woman who is also an accomplished painter, filmmaker, record label head, musical mentor, and an in-demand keynote speaker for mental health and suicide prevention. She continues to create music of hope and healing that lights up the world and speaks to the heart.
Judy Collins UK Tour
(featuring special guest Jonas Fjeld as supporting act)
The UK tour will highlight some of the new material from Winter Stories.
Jonas Fjeld is the supporting act and will likely join Judy on stage as a special guest at the finale.
Judy Collins' UK Tour Dates are as follows:
Sat January 11th 2020 — LIVERPOOL Grand Central Hall

Mon January 13th 2020 — MANCHESTER Royal Northern College Of Music

Tues January 14th 2020 — GATESHEAD The Sage

Weds January 15th 2020 — NOTTINGHAM Playhouse

Sat January 18th 2020 — BIRMINGHAM Birmingham Town Hall

Sun January 19th 2020 — WIMBORNE Tivoli Theatre

Mon January 20th 2020 — LONDON Union Chapel

Weds January 22nd 2020 — GUILDFORD G Live

Mon February 3rd 2020 — EDINBURGH Queen's Hall
Please contact...
Contact: Mal Smith & Chris Carr Delta PR