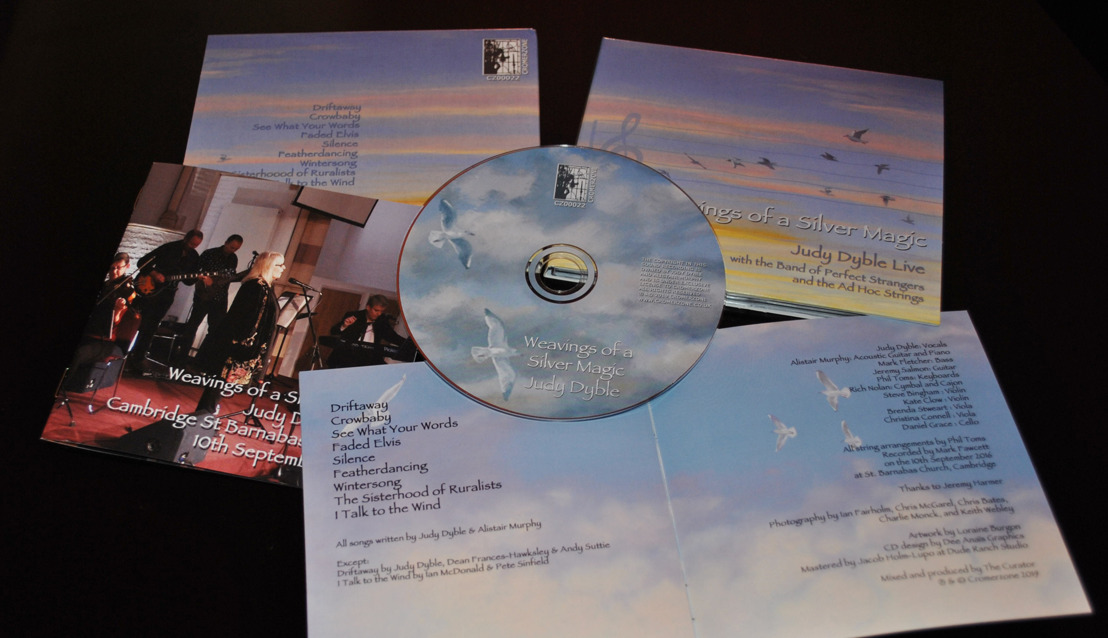 JUDY DYBLE — Weavings of a Silver Magic
Good news for 2020...
The magical forthcoming Judy Dyble album recorded live in Cambridge with strings.
The new album captures the moment ten musicians gathered on stage to create musical backing for the evocative songs of one of the legendary figures of both folk and progressive musical history. The variety and sheer quality of the songs that the ex-Fairport Convention singer has written, usually with co-writer Alistair Murphy, is remarkable.
"These musicians have been part of my musical life for the last ten years — Alistair Murphy on keyboards and guitars, Mark Fletcher, bass, and Jeremy Salmon on electric guitar. They've played on all my solo albums and accompanied me on live performances," says Judy Dyble. The core of the Band of Perfect Strangers, Alistair, Mark, and Jeremy have all played on the three solo albums that Judy has made since her return to music in the early 2000s.
"I thought it would be good to perform these songs live with a string section... Weavings of a Siver Magic is the result...!" says Judy.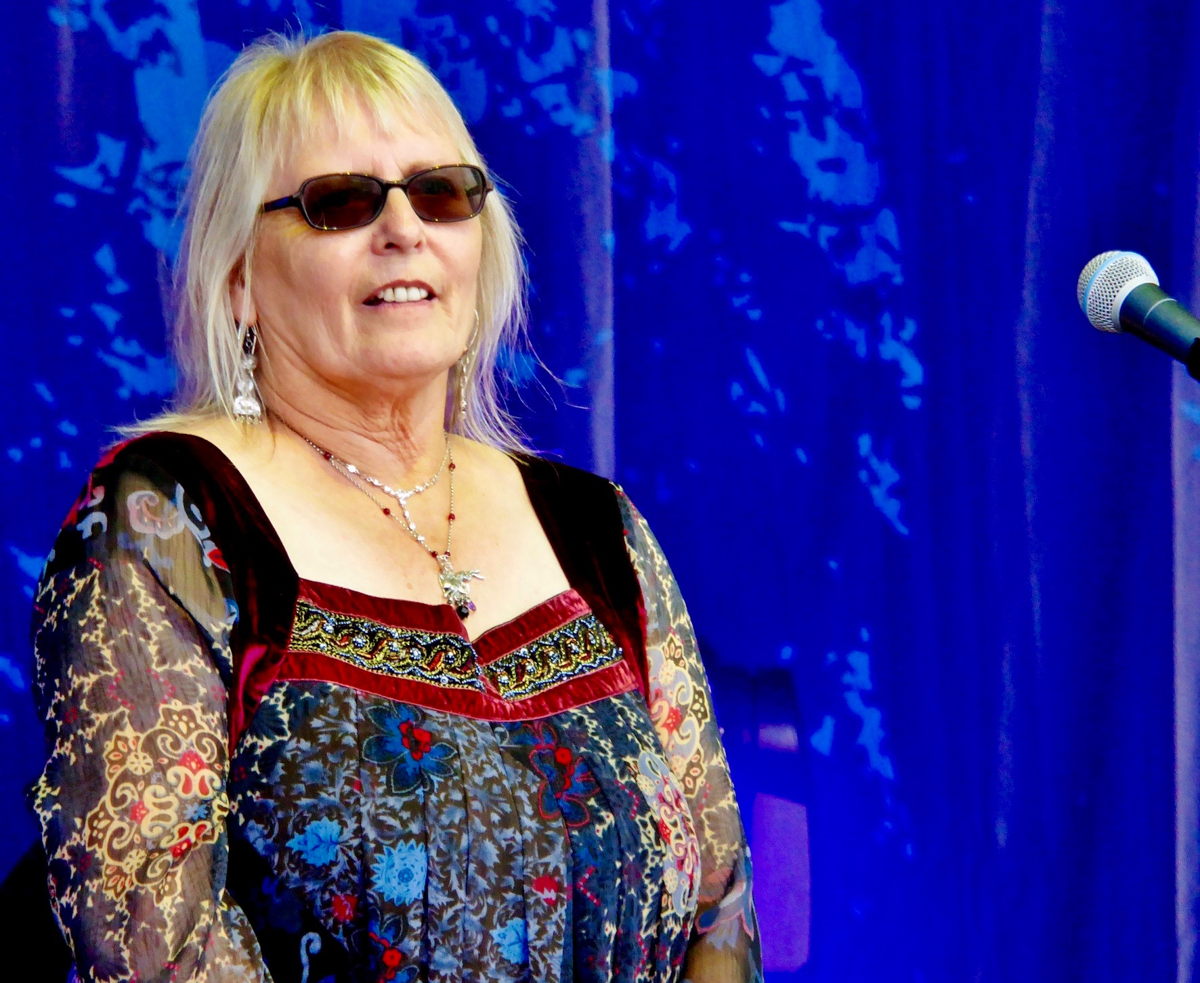 Alistair Murphy, aka The Curator, Judy's co-writer on most of the songs, produced the album:
"The songs mostly come from Flow and Change and Earth is Sleeping. The exception is 'I Talk to the Wind', which Judy sang while King Crimson slowly emerged in the late 1960s. Judy had joined Giles, Giles and Fripp, along with Ian MacDonald, and an early pre-Greg Lake version of the song was recorded with Judy doing the vocals.
Judy's way of creating songs varies. Sometimes she has words that others will put to music, sometimes she has words and a tune. For 'Driftaway' Judy wrote the lyrics and the music was written by Dean Frances-Hawksley and Andy Suttie of Temple Cloud Country Club. Invariably it is the first song in any set for Judy and the band. It's a great way to start a show!
In between 'Driftaway' and the last song I 'Talk to the Wind', are seven Dyble/Murphy songs. For most of these, but not all, the process of writing the songs is for Judy to write the words and I create the music. Judy's lyrics range over many subjects, songs about nature, artist friends, Elvis impersonators, or sometimes songs about being Judy Dyble. The songs led us to this album," says The Curator.
Recorded live at St. Barnabas Church, Cambridge.
The sumptuous string arrangements are by Phil Toms.
Judy Dyble with the Band of Perfect Strangers and the Ad Hoc Strings.
Mixed and produced by The Curator.
Label: Cromerzone

Cat No. CZ00022

Due for release on CD and digital: April 10th 2020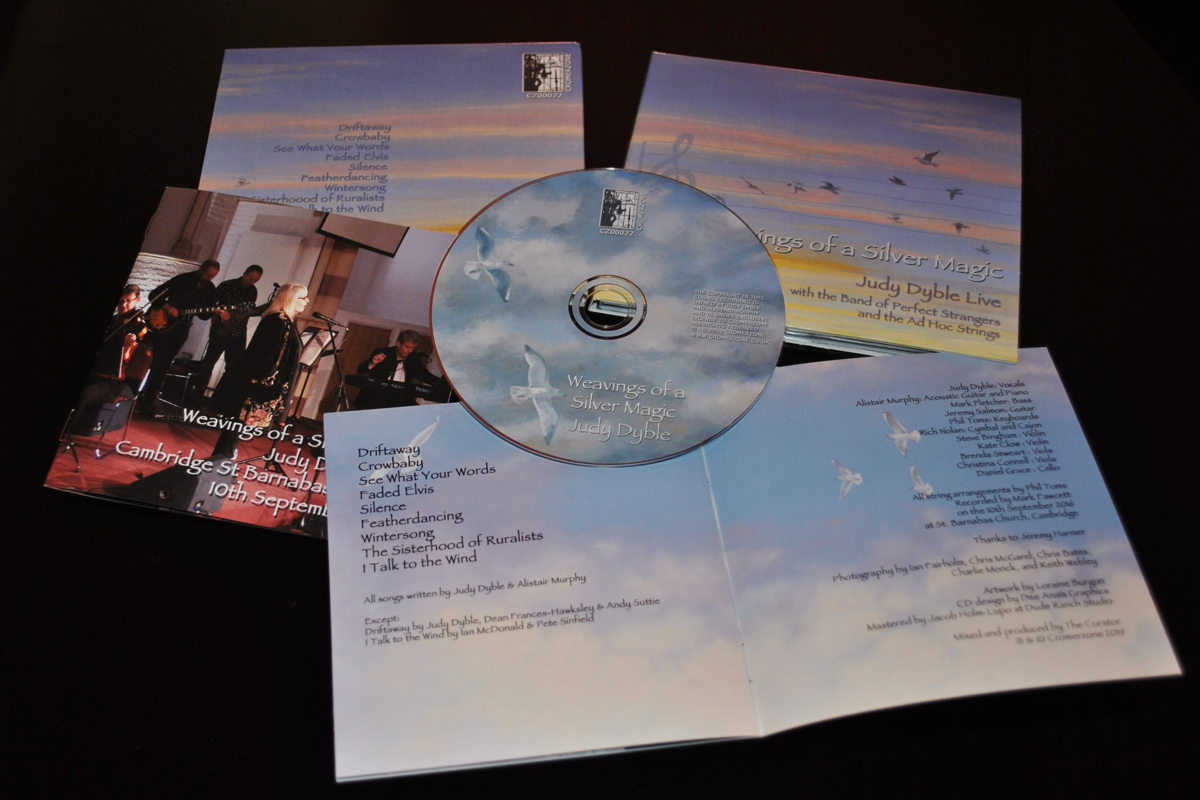 * For more information please contact us...
Contact: Mal Smith & Chris Carr Delta PR