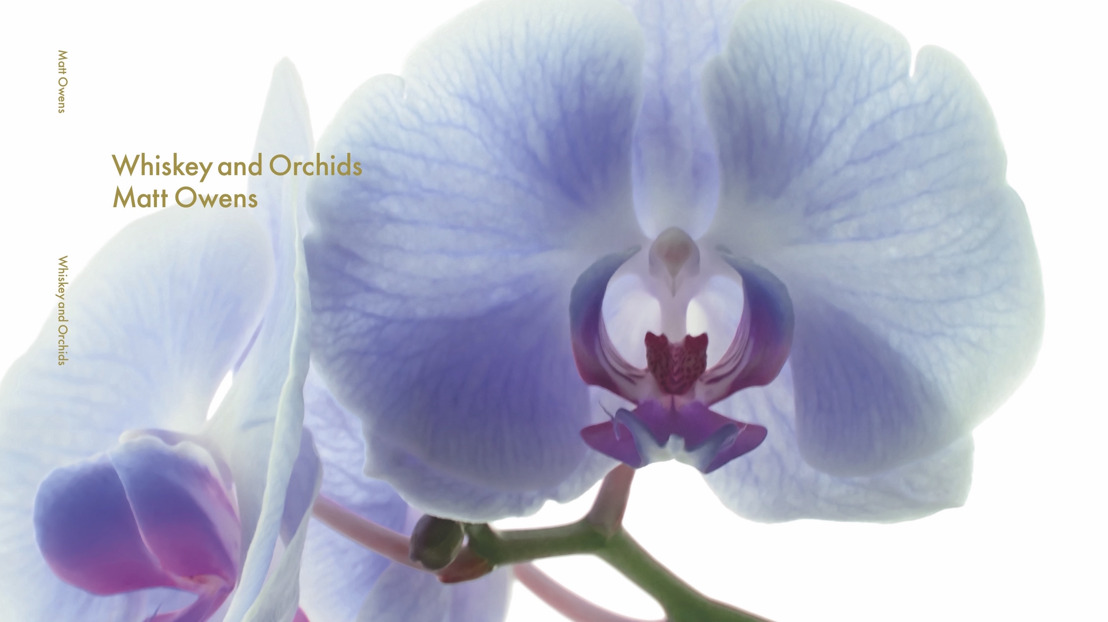 MATT OWENS — Whiskey & Orchids
Matt Owens, co-founder of Noah & The Whale, was born in Hammersmith, London and grew up in Twickenham…
"I had a good ear for music and started on violin at 3 and piano not long afterwards. My first eureka moment with music was sitting at the age of 4 at a school concert. I sat on the gym-horse to one side with Doug from Noah and the Whale, bored shitless for 3 hours, as kids plucked silent out-of-tune classical guitars or blew down lifeless flutes, until the final act where the 6th formers came on and played in a rock band. They opened with Money for Nothing into Johnny B Goode. It was loud, exciting and very much welcome. That was my first intro to rock'n'roll.
Around the age of 9, I started acting professionally. I was an appalling actor, but I had a good memory for lines. I was spotted by a scout playing the lead in a play and though my parents were fairly skeptical, the first audition I went for I got. A world tour with the RSC followed, playing Mamilius in The Winter's Tale, and starring in a film with Catherine Zeta Jones and Clive Owen called The Return of the Native. Those are the highlights, plus getting over 6 months off school. However at 11, I was invited to join the scholarship class to attempt an academic and music scholarship, but on the condition that I didn't take anymore time off, so my acting career was thankfully quashed.
I wasn't allowed a guitar until I was 11, in hindsight very sensible. On digging up a guitar from the 60's, from out the loft, I played on it for about 6 hours a day til I broke it at 12. We formed our first band the Nuclear Toads around this time, made up of the whole class. Six weeks before I took my scholarship exams at 13 my Dad went out to the guitar store with me as I was desperate for a Yamaha Pacifica. I returned with a vintage Strat that I still play to this day and a small, but loud amp. From that point on I was forever in at least 2 bands throughout school.
After a catastrophic career at Bristol University where I spent my time doing anything other than Latin and Ancient Greek (seriously!), instead mostly touring the country with my band Hunting Dodo. That band broke up 3 months into moving to a squat with a giant basement / rehearsal room in Archway, London. Charlie and Doug had supported Hunting Dodo as a duo under the moniker Noah and the Whale and I got asked to join on violin. This then spread to keyboards, guitar, glockenspiel, and harmonium before finally settling on bass.
I bloody loved my time with Noah and the Whale. I couldn't have had a better time. Any misgivings about missed opportunities and things we turned down are pale in comparison to the time that was had. The only thing I desperately miss now is touring the States.
After that, in 2014, my band Little Mammoths formed out of the ashes of Hunting Dodo. After Noah and the Whale, it was good to get back to the soul and fun of playing and building something up from scratch. After it became apparent that Noah's 'one year off' was potentially indefinite. I thankfully had already returned to playing 7 nights a week and was back learning my craft, to the guitar and to full-time songwriting.
My approach to music is as soon as I'm not getting better at it or enjoying it I will stop.What still holds me is that it has actually nothing to do with the chords or the melody or the lyrics, just how it floors you. This drives me on. I lean towards songs where you feel you're being told something you probably shouldn't be being told, and I feel my best songs are the more singular ones that only I could have written."
Matt Owens
Lay Down Honey, I'll be with you by dawn
You've been crying babe Cos we're far-flung and torn
For when the sun's long gone, with the pale evening light
Lay Down Honey, it'll all be alright ... It's almost Dark
Chasing money, and working too hard
There's always something... I know you're shattered and scarred
As the Eagles fawn, Once the day's outta sight
Lay Down Honey, it'll all be alright … It's almost Dark
We've been over this before…. So much so we can't talk anymore
And it's true me 'n' you shake ourselves to the core
Til we're clapped out in our arms, and can't fight anymore
Lay Down Honey, I'll be with you by dawn
With a bottle we'd drink, til it all went so wrong...
As the North Star calls, and the days outta sight
Lay Down Honey, it'll all be alright … It's almost Dark
(Lyrics © Matt Owens)
Album Track Notes:
Lay Down Honey
Written while driving home late at night back from a show, with a long list of similar evenings ahead of me. There's a certain amount of blind optimism in this song and it's about how hope and the refusal to fold can sometimes pull you through.
Little Tornado
This is a love song I wrote for my wife. Things had to be amended in the third verse with the arrival of our daughter. I've always been drawn to strong, fiery women.
American Girls in London
About a different time, when I'd come back from tour and occasionally be visited in London by girls I'd met out on the road - in the case of this song, two Americans in the same month. With each, we hit the town, drunk in the city and drew on our differences.
The Piano at The Greyhound
I've always loved knackered, old pianos. This is about one of the best, out on the West Coast of Ireland, in all its legend.
Christmas Eve
It was after Christmas. Leonard Cohen had passed in November, Gord Downie from The Tragically Hip had been diagnosed with inoperable brain cancer, and the TV anchor was announcing the problem was that Britain was disparate. I was playing The Great North Wood pub, everyone was smashed and it felt good to get away from it all and just play songs on a guitar.
Match Day
About being so in love with something you can't give up on it, even though you're on a losing streak and it's bringing you far more problems than pleasure. Whether it's a team, a relationship or your obsession, you can't quit.
(Side 2):
Too Far Gone
A million euros worth of cocaine washed up on the West Coast of Ireland in County Clare, about half a decade ago, and the Garda were called and collected it. When the same thing happened again 2 years later, the locals got there first; the stash was never found by the authorities or those whom it originally belonged to. I was on tour, stone broke, when a guy at the bar suggested we could smuggle some back to London in an amp to supplement our income. I declined. But I liked the story as the setup for this song.
World Won't Wait
The need to just go and do what you need to do, and to hell with the consequences.
One Fuck of a Year
Written 12 months on from Christmas Eve and things had been even harder, personally, professionally and, seemingly, globally than the year before. Started out as a genuine attempt at a Christmas song that degraded pretty quickly!
Whiskey and Orchids
All about being in a horrible relationship. The oldest song to make it onto the record. Written at a time when I was getting to know my florist and the guy who ran the Off-licence simultaneously. Both far too well.
Last Play of the Day
About my Grandfather.
Album Credits:
Produced by Nigel Stonier
Recorded and mixed at Airtight Studios, Manchester
Engineered by Seadna McPhail. Mixed by Seadna McPhail and Nigel Stonier
Mastered by Mike Cave at Loft Mastering, Liverpool
All songs by Matt Owens
Musicians: (a fine array of British, American and Canadian musical talent):
Matt Owens: Vocals, Electric Guitar (Little Tornado, World Won't Wait, and Whisky and Orchids), Acoustic Guitar, Harmonica, Bass Guitar, Piano (on Piano at The Greyhound, One Fuck of a Year, and Last Play of the Day)

Nigel Stonier: Piano, Acoustic and Electric Guitar, Mandolin. Bass on Too Far Gone and American Girls. Vocals.

Michael Blair: Drums and Percussion on The Piano at The Greyhound and World Won't Wait

Paul Beavis: Drums and Percussion

Adrian Gautrey: Organ and Pedal Steel

Thea Gilmore: Vocals

Carleigh Aikins: Vocals on American Girls in London

Robert Vincent: Vocals on Too Far Gone, World Won't Wait and One Fuck of a Year

Boss Caine: Vocals on World Won't Wait and One Fuck of a Year

Alan Lowles: Accordion
Digital / CD / Vinyl — An Urby Records release
Contact: Mal Smith & Chris Carr Delta PR