LOCKS — The Hangover Song
Spread the happiness with this seasonal special from London's best
Trust LOCKS to serve up the perfect remedy for Christmas and the New Year!!!!!
'The Hangover Song'
"We released The Gin Song a couple of years ago and we always enjoy playing it live and seeing people dancing. We wanted to release something for the winter season that's light-hearted and carefree... so this is The Gin Song's big brother. The Hangover Song is old-school, knees-up, foot-stomping. A whole lot of fun.
Lyrical quotes for you:
'Oh my lover my head is caving in, I tried to fix it late last night with a bottle full of gin'
'So bury me safely with my eyes towards the sky, clutching on some gin or a bullet full of rye'
'I know we lost the battle but I think we won the war, as we pick ourselves between the bodies lying on the floor'
(Lyrics © L. Geary-Griffin)
We wrote the beginning of the track in the studio, wanting it lazy and slurred as if you were waking up groggy the next day. Andrew's drums are classic LOCKS. Marian's fiddle takes a bit of the centre stage. She's written an amazing fiddle piece, a mixture of bowing harmonies and melodies, that carries the song perfectly. Mike's double bass flits from sliding, sleepy notes at the start to dancing all over the neck; there are some amazing runs he's woven in."
The artwork
"We've spent a lot of time on The Hangover Song artwork. It was designed with a tarot card style in mind. We researched old bottles of poison, different interpretations of Gin, the good and bad, and Latin translations of the ingredients of gin. The label on the bottle says Mothers Ruin in Latin. The pendant features a beetle, a reference to the lyrics 'you won't hear me complaining when the beetles strip my bones'. And the corner decorations feature really sweet juniper berries."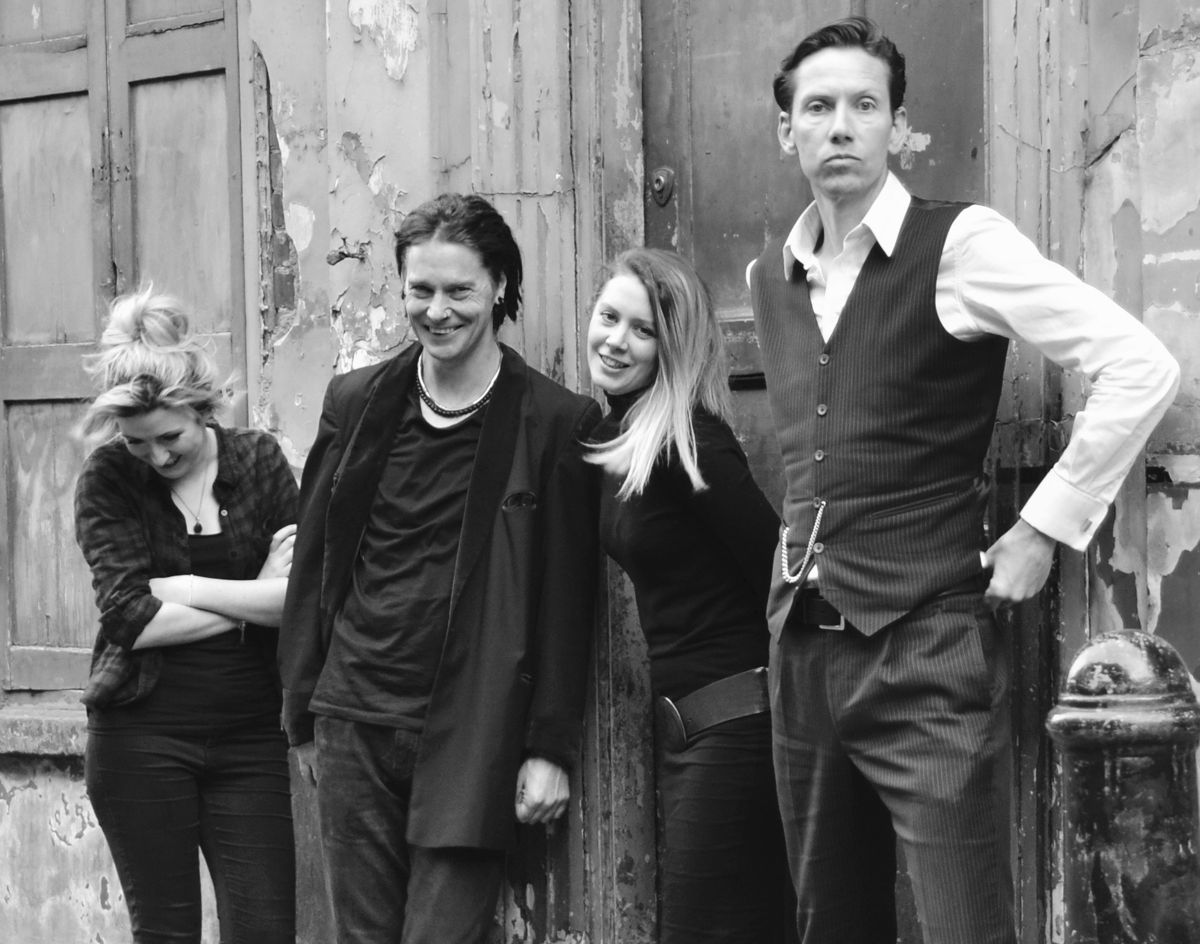 The single
The single also includes another new song 'Limb'. "Both tracks are one-offs, we wanted to write a couple of songs for the winter months as a thank you to everyone who's stuck by us and joined us this year..."
Seasonal gigs
8th Dec 2018 — Mother's Ruin, Bristol

14th Dec 2018 — The Harrison, London

8th Jan 2019 — The Bedford, London
---
* Double A-Side Single The Hangover Song c/w Limb due December 21st 2018 *
---
Contact: Mal Smith & Chris Carr Delta PR