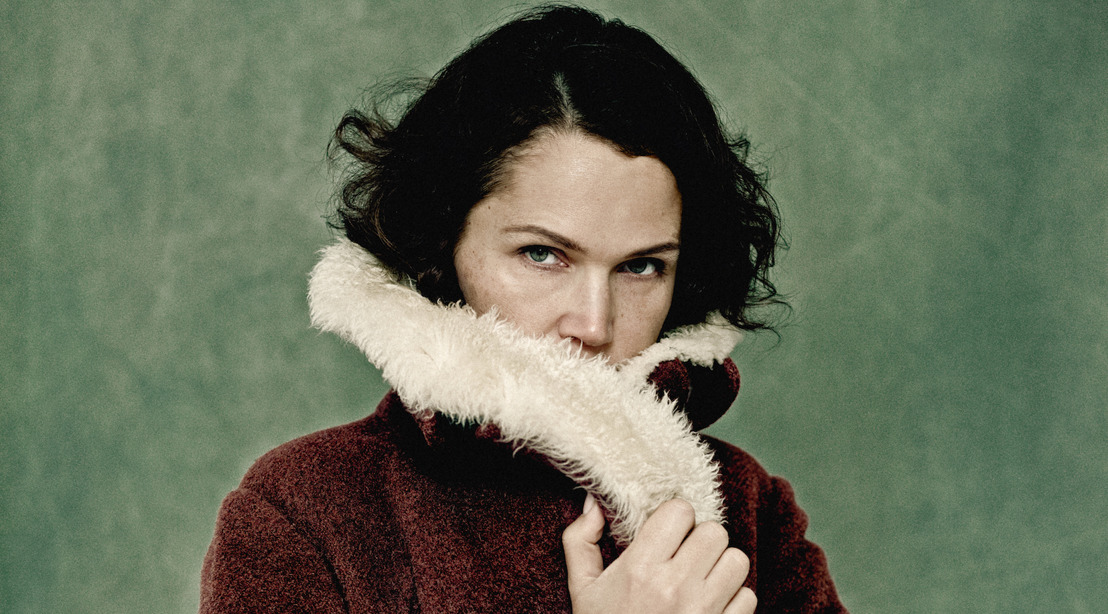 VANWYCK sings detour songs for wonderful 'God Is In The Detour'
"That is where the magic happens, when you let go..."
God Is In The Detour is the new album from exciting new discovery VanWyck. These are her 'detour songs'. These are "direct and uncomplicated… true and simple, honest and sincere," she says. "I really enjoy it when things don't go according to plan. Actually I think that is where the magic happens, when you let go of the reins and end up in unexpected places. Both in music and in life."
​
​VanWyck is based in Amsterdam. Her songs, her phrasing, and her presence enchant. But this exceptional music is drawn from the real stuff of life. We wondered how on earth VanWyck has arrived at this point? Here is her story so far, in brief. There have been ups and downs and detours. Twists and turns, obstacles in her path. Experiments and realisations. And decisions. This is what she said:
​
​"I was born in Rotterdam. My Dutch parents had been living in Indonesia. My mother gave birth to me in her hometown. As soon as I was flyable, at about three months, we flew back to Jakarta where I first met my father. We moved to New Zealand when I was three. I learned to read and write in English. We moved back to the Netherlands when I was eight. I started playing piano. I was a huge Prince fan and wrote my first song at fifteen. I started playing guitar, but was way too shy and insecure to join any bands. When I was seventeen my parents moved to Turkey. I moved to Amsterdam to study history.
​
​I visited Paris in the nineties. I met some street-musicians and we ended up making music together. I noticed I could sing, and had a 'stage presence' or so my fellow musicians told me. It felt very right, like I had found the place I belonged. I stayed in Paris for a while and we made a living playing in the metro. Then back in Amsterdam, I joined a band as a keyboard player. We had a good record deal, were quite successful and performed all over Europe and twice in New York.
​
​After that band broke up, I decided I wanted to be a singer-songwriter, write my own songs and make my own material. I started writing, recording and producing. Shopped around with my solo demos, but nothing happened. I even went to England to record with producers, in the late nineties. But these guys were incoherent. We didn't see it through.
​
​Then I formed an experimental, alternative, indie band in Amsterdam. We self-released two albums, played a few big festivals, and did showcases in Canada. However, we had a lot of creative struggles within the band and I found it hard to work within the music industry. It felt dishonest a lot of the times and I didn't want to be a part of that. So I quit the band and tried to live without music for a while.
​
​But I need music, not in a success-chasing way, but in a deeper way. I need it to make sense of things, to find words for things, to help me get through, to define emotions, to search the corners of my mind that can't be reached in other ways. It's the one thing I enjoy most, this playing with melodies and words, this mysterious twisting and threading. This thing that cannot be pinned down, but is just there somehow at your fingertips.
​
​It meant I had to dig deeper and work harder. I had to to take myself seriously as an artist, to be able to write what I really wanted to write. This might sound weird, but I think part of my background, our society's view on women and a sort of Dutch egalitarian culture, not to set yourself apart or think you can be better than the rest, had always kept me back. Maybe I was waiting for permission. But I realised that wouldn't come.
​
​I just had to start. So in 2015, I resolved to go full force ahead with music as a solo artist. I took the name VanWyck, my grandmother's maiden name, and started a songwriting project called 'one song a week' where I wrote and released a song every week and tried to grow an audience from there. I released my debut album An Average Woman in 2018 and it was very well received in The Netherlands and things started from there.
​
​I formed a band with people I love dearly. We began playing small shows and grew our audience organically, so we are now selling out venues in The Netherlands. The second album Molten Rock, released in 2019, was again very well received here.
​
​God Is In The Detour
​
​God Is In The Detour is an album of mostly acoustic songs. These are songs I wrote alone with my guitar, and a few songs I recorded earlier with only piano that haven't been released on an album. Fans kept asking me for these songs on CD (songs such as We Do Not Speak and That Time This Time). I have had this 'detour' idea for some time. I really enjoy it when things don't go according to plan. Actually I think that is where the magic happens, when you let go of the reins and end up in unexpected places. Both in music and in life. We hope to do a tour called 'The Detour' when we can… ;-)
With lockdown it felt an appropriate time to take this route. I'd been working on an album with a lot of string arrangements, a lot of layers and a lot of different musicians, but we couldn't meet or record. Then a good friend of mine passed away very suddenly. She was diagnosed with a severe and malignant brain tumour and six weeks later she died. Leaving behind her girlfriend and two teenage daughters. She was such a big presence, had such a wonderful, joyous and funny character that it felt impossible that she was so suddenly gone.
I wrote this on Facebook: 'In the short time she had left, she was able to say goodbye to her loved ones so lovingly and courageously. Above all she was grateful: for the richness of life, for love, for her daughters, her friends. She told us all one last time to please not worry so much about the small stuff - how stupid that is, how wasted the time, that she could see that so clearly now she was already with one foot on the other side. How much bigger love and friendship are compared to the small stuff. She told me I should write some more songs. I will try. And I will think of the thousand times she made me laugh. And of how her hand waved above the crowd on the dance-floor.'
​
​And now I realise those words have all the elements of the song Your Favourite Tune which I wrote for her later. Your Favourite Tune felt very different from the ones I was writing for the string-arrangements album. It is so direct and uncomplicated, in a way. Every word is simple and true. I hope it does her justice. It also made me understand that I should record an album with these songs, my detour songs, true and simple, honest and sincere. Unadorned maybe, or smaller in a way. Less complex and ambitious maybe, but also rounded. I wrote and recorded two more songs like that: I Wish You Well and The Garbagemen. Along with the song God Is In The Detour, I feel like they belong together. Sometimes you need things that are crystal clear. Maybe that's what it is: these songs have a certain clarity, a see-through-ness. Every word is in its place and everyone can understand them. Or feel the emotion."
Songs written by Christine Oele; except Your Favorite Tune music co-written by Reyer Zwart
​Produced and mixed by Reyer Zwart
​Vocals: Christine Oele
​Acoustic Guitar and Piano: Christine Oele
​Viola: Laura van der Stoep
​All other instruments: Reyer Zwart
​Backing Vocals: Marjolein van der Klauw
Single Your Favorite Tune — Out now
Single God Is In The Detour — Out now
Single The Garbagemen — Out now
Album God Is In The Detour (CD & Digital) — Maiden Name Records — due October 30th 2020 — Out now
Album God Is In The Detour (Story Edition) — Album due December 18th 2020
Album God Is In The Detour (Vinyl) — Vinyl due April 2021
First ever UK gig — The Slaughtered Lamb, London on November 9th 2021
For more information — please contact us now...
Contact: Mal Smith & Chris Carr Delta PR