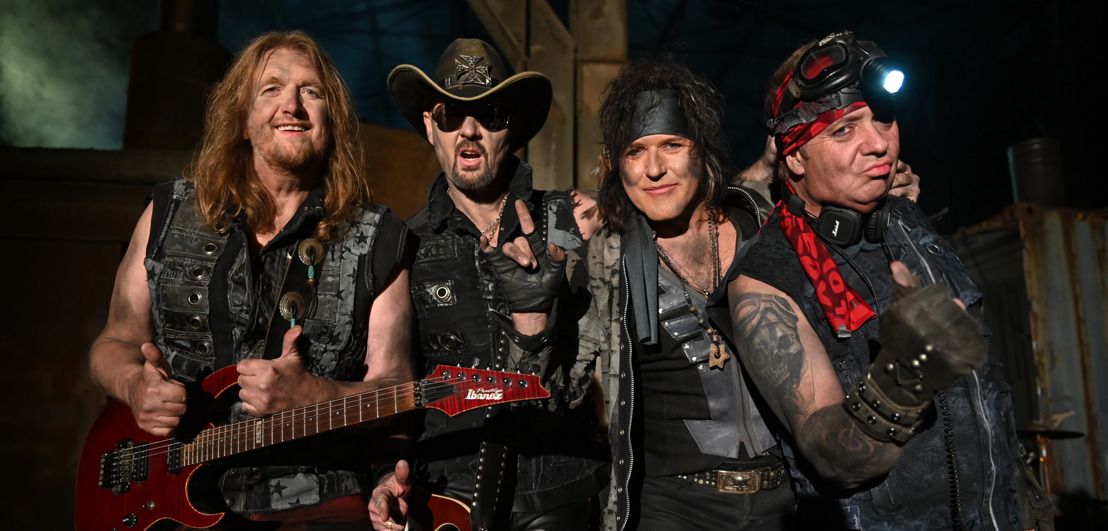 WIG WAM — Score Chart No.1s as the World Dances...
'Do Ya Wanna Taste It' hits as Sky / NOW release Peacemaker. Tour dates & more.
LATEST: Wig Wam's Do Ya Wanna Taste It hit No.1 on the ​ iTunes UK Rock Chart for the week March 28th - April 3rd. The song is holding in the chart at No.2, and currently has the Amazon UK Rock Songs No.1 spot. It's also in the Amazon UK Songs top ten.
As well as being a top selling song in the US and UK, people all around the world are now dancing the irresistible Do Ya Wanna Taste It dance. In Bangladesh, Mexico, and the USA, just for example, see below. The song together with the dance is catching on and fast becoming a classic. You gotta see these dances.
And: we are pleased to announce Wig Wam's first 2022 live dates; see below. More dates are TBA in the US, UK and Europe for Summer 2022.
The band has two songs in the new hit DC series Peacemaker: Do Ya Wanna Taste It soundtracks the brilliant opening credits sequence of each episode, and another Wig Wam classic, In My Dreams, is also heard in the series. The reaction has been phenomenal. Do Ya Wanna Taste It hit No.1 on the US iTunes Rock Chart in February. Now it's a hit in the UK.
Taste it — live and acoustic
A superb new acoustic live performance of Do Ya Wanna Taste It has emerged, via Norwegian TV2.
"#WigWam An incredible acoustic version of their #Peacemaker theme. Beautiful, joyous & strangely heartbreaking all at once. Check it out!" Peacemaker series creator James Gunn says via Twitter.
And yes, as James Gunn says, it is indeed "Beautiful, joyous & strangely heartbreaking all at once." This wonderful performance brings home the unique magic of Wig Wam...
Throw your dog the invisible bone
James Gunn has also spoken about the lyric "throw your dog the invisible bone." Gunn says, "You know when a-holes f–k with dogs by pretending to throw something, & the dog runs to get it, & then the jackass laughs because he's smarter than a dog? That's an invisible bone."
As the world dances to the tune...
In Bangladesh...
Mexico...
And the USA...
More info...
Peacemaker is one of the most popular shows in the world today say IMDb + RT
Peacemaker has aired on HBO Max in the US — for more information see here
The UK release date of the series: see it from 22 March 2022 — on Sky and NOW TV
The original Do Ya Wanna Taste It video is on YouTube & just out via Apple Music
Wig Wam is working on a new album due for release in early 2023
Wig Wam is set to tour the world in 2022 and 2023, including their first-ever US tour
Wig Wam — ​ 2022 dates confirmed
April 9, 2022 VALAND, Gothenburg, Sweden
June 8, 2022 (With Scorpions) TRONDHEIM SPEKTRUM, Trondheim, Norway
June 25, 2022 TONS OF ROCK, Oslo, Norway
August 6, 2022 LEYENDAS DEL ROCK FESTIVAL, Alicante, Spain
August 13, 2022 FOYNHAGEN, Tønsberg, Norway
September 4, 2022 INDOOR SUMMER FESTIVAL, Hamburg, Germany
More dates TBA for the US, UK, and Europe for Summer 2022
For further information please contact us...
Contact: Mal Smith & Chris Carr Delta PR