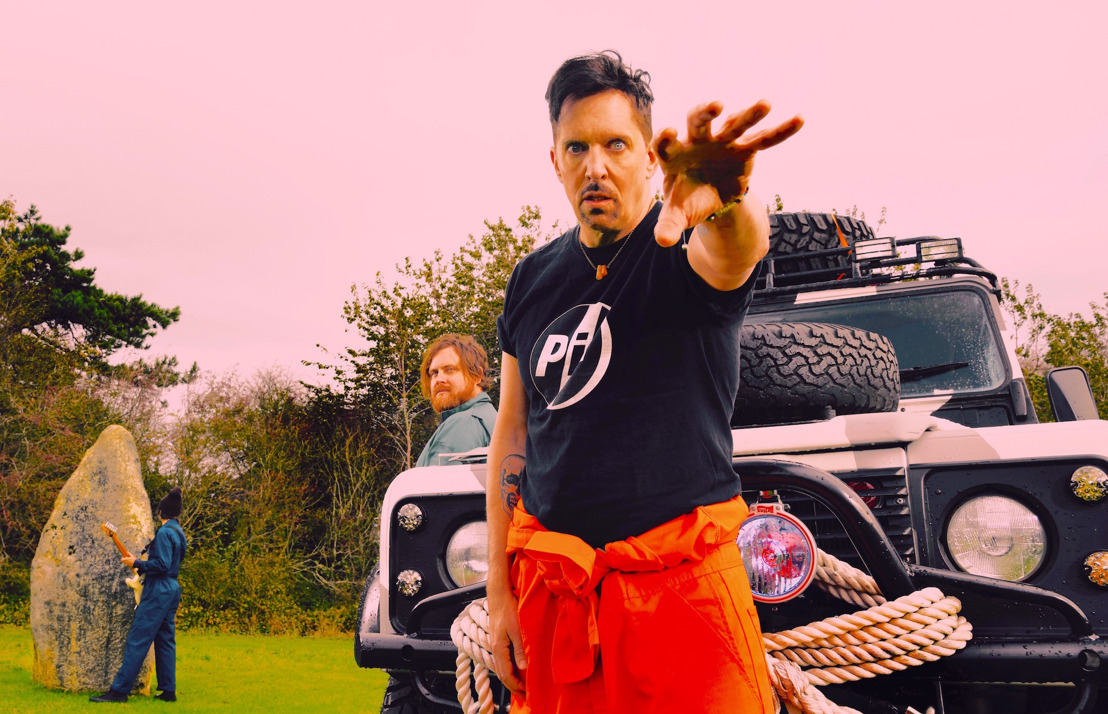 THE IMBECILES — and essential debut album 'The Imbeciles'
In a California town...
They were somewhere around Joshua Tree on the edge of the desert when the mushrooms began to take hold. In an ex-biker roadhouse whose former denizens were still inclined to dig up guns and bury bodies in the surrounding dark, in a Californian town so sure of its own lawlessness that those 'shrooms were on a takeaway pizza, the band now known as The Imbeciles was born.
Footage shows them sporting ecstatic grins as an audience of under a dozen mosh in front of the tiny stage. They were Wartoad then, a "more conventional, mainstream punk band", guitarist/lyricist Butch Dante recalls, till a Texan tour roughened them up, and they pushed on to embrace the danger of California's byways in the tour which finished at that roadhouse. Improvising wildly at what felt like the end of the world, they were suddenly off the leash. The extreme freedom found at any Imbeciles show now follows from that night.
"When we play live we go down a rat-hole, a death spiral," Butch explains. "We take it to the edge of what people expect to hear. Then someone leans into it, the rhythms change, and it resolves back into conventional music." Guitarist/producer Calvin recalls: "In that Californian town, we started loose, and got looser and better. Now everyone in the band trusts that if we go into one of those spirals, we're going to make it out."
The band, usually scattered through Los Angeles, Texas and New York, are together today in their UK base, a house secreted away from prying outsiders in Sussex downland near where Virginia Woolf lived and drowned. A machine-gun faces the road, and a stone circle stands in the garden. From the garage, new Imbeciles music can be heard.
Driven by frustration
They are preparing for the release of their self-titled debut album, of 13 imploded songs which rarely last more than two minutes. Recorded on tape in eight deranged days on the Texan-Mexican border, it's packed with stripped-down musical information and resonant with atmosphere. A ghost of blues guitar haunts the dry post-punk clang of "D.I.E.", with its overlapping, blurred lyrics. The stoner languor of "Ice Cream" is chopped and fuzzed up till a sonic distress siren flares, and the track malfunctions and cuts out. Abrupt razor-edits and spectral moods abound. "Back Brain/Paranoia" applies relentless pressure to the cranium. But "Decider" is a despairing, Abba-quoting ballad. The defeatist conformity of much recent rock has been replaced by diverse wildness: a pungently dirty essence.
"We're trying not to adhere to the conventional wisdom of what a band should be, and who should be in it," Butch believes. "Jads is a jazz-trained drummer who can roll off the beat in a Mitch Mitchell sort of way, the keyboardist comes from classical and jazz, and as the punk anchor with my lack of musical ability, I default to heavy power chords, based around fierce rock riffs. Those riffs, a strong drum-beat and aggressive bass are all very commercially viable. We might shift off into a hinterland of jazz-infused prog, but we bring it back. Because we want people to listen."
The fragments of barked and mutilated lyrics aren't singer-songwriter straight. But nor are they random. "We want people to think what's going on is not right," Butch continues. "That's the theme of this album: you're all fucked, we're heading for a dystopian future. But before you fuck off, you could be nicer. The music sounds angry, but it's driven by frustration at people being vile to each other, and inequality. The kindness that used to be part of our DNA has been expunged. Our leaders are embarrassed by it. But the only thing that will solve the world's problems is ubiquitous kindness." The album, though, avoids lectures. "The band-name's designed to say we're as foolish as anyone else."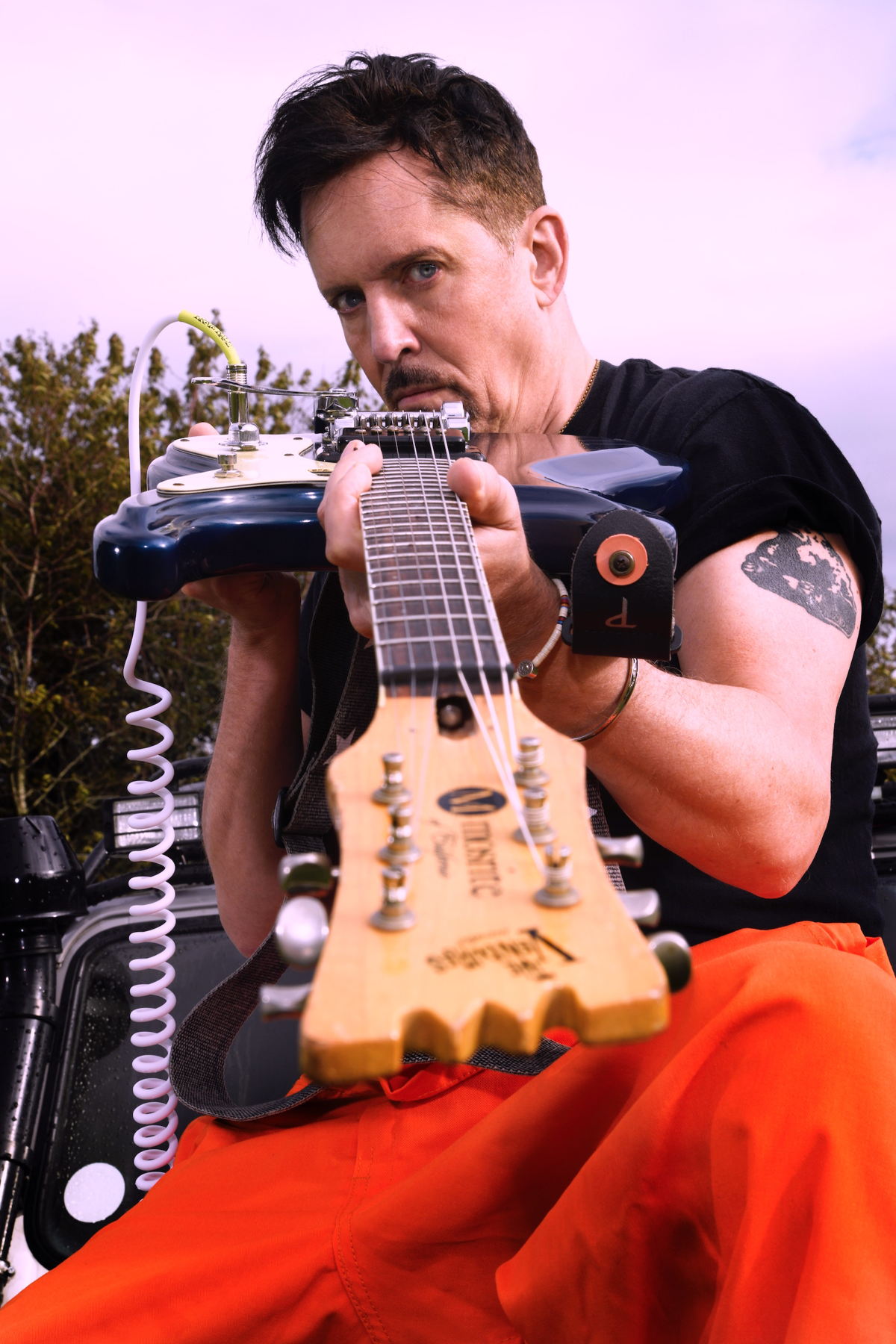 Catharsis
Butch is the sole English Imbecile among Americans, though he slipped away to California in his twenties for adventures across a vast variety of jobs. England still made him, forging a sense of injustice from observing Yorkshire children scrabbling for raw coal during the 1980s Miners Strike, and making him hurl himself into political and football riots. The Imbeciles' heedless liberation is also the postscript to a 1970s childhood of frequent terror. It's the sound of someone freed from fear.
"I grew up in South-east London," Butch recalls, "going to school on the Ferrier estate, which was really frightening for a 7-year-old. It was incredibly violent in the early 70s, with the National Front, racism and stabbings. Music can be cathartic, expressing anger and frustration: the Bromley punk contingent were nearby, and I used their music and The Clash and Wire like medicine. I've since outgrown fear of that sort of violence. That has all influenced where the music has gone."
Calvin lists influences from Nirvana to Hendrix, the Grateful Dead to Shellac. "For the last 15 years," he adds of The Imbeciles' individual young Americans, "we've been playing every kind of music that's true for us. The cool thing is, we're now in a band where nobody's the front-person, and everyone's indispensable. Usually there's a hierarchy. The main goal of the band is that everybody gets to be themselves."
Stray Imbeciles clomp past in orange overalls, a uniform part-way between honest worker and Kubrick Droog which, like the masks some members wear onstage, defy gig norms. "The masks are to create a barrier and discomfort between the audience and band," Butch explains. "The jumpsuits are because it's an industrial sort of music, and we're at work here." Argues Calvin: "I don't look at them as costumes. I've always wanted to wear a jumpsuit. And I wore it every day on tour, and every day as we made the record."
Down on the border
Sonic Ranch in Tornillo, Texas is where they isolated themselves to record. Set amidst an 1,800-acre pecan farm, it's right on Mexico's Rio Grande border. Trump's tent city for immigrant children was closed the month they arrived, and the borderland had at least a subliminal affect on an album recorded in opposition to such malice. "There was an old station where people would come if they wanted to cross over into Mexico," Calvin recalls, "and the gate you passed through was in my bedroom. That's how close the border was. It was terrifying out there. We were told, 'By the way, there are ghosts.' And if they're anywhere, they're there. I was scared. And some of the music's scary. I wasn't sleeping at all. But we were immersed in this. We were extreme personalities together." At night, they sat round a campfire. Inside, the green studio light was the sole, eerie illumination.
"Calvin had three hours sleep a night for eight days," Butch recalls. "The combination of that with the various chemical strata floating around created an Apocalypse Now, extreme environment where people were doing mad things. People say, 'Oh, I'm going to do a tape-loop.' You don't usually associate that with people actually cutting tape, taking it to the other side of the room, wrapping it around a microphone and bringing it back. That's an actual loop of tape. And it took how many hours?"
Two-inch tape, striking videos, a cinematic band
That two-inch tape gives analogue life to the album, capturing the space in which they recorded it together, on the lovingly prepared vinyl especially. Equal care has been given to the striking videos, crucial elements for a highly cinematic band. "D.I.E." finds them as hollow-eyed, half-zombie astronauts, high-fiving on a suicide mission into the sun. "Three videos will form a triptych of death," Butch laughs of their prevailing theme. "The next one will be filmed in Texas, and combines elements of The Seventh Seal, Planet Of The Apes and Them. Oh, and the Kung-Fu TV series."
This diverse death-trip's ambition is matched by gig venues. "We don't tour where most people do," Butch advises. "In the UK, it was north Scotland and the Isle of Wight. In America, biker bars and punk clubs. It's been really good for us to see America's underside."
Butch Dante once met Hunter S. Thompson, still admiring his hero afterwards although it was "like talking to an otter on acid" he recalls, demonstrating the experience with a gabbling howl. Gonzo they may be, but The Imbeciles remain productively committed to their path. Clubs in London and New York are planned for like-minded souls: soirees for desperados. Fear and restraint will be left at the door.
Photos above — by Tom Sheehan
The Imbeciles' self-titled debut album is due for release — March 27th 2020
Album formats — Vinyl, CD and Digital
Forthcoming video "Decider" will form the second of a triptych, the third is TBA; with the first episode being the video for "D.I.E."...
Contact: Mal Smith & Chris Carr Delta PR